Scroll down the entire page to see all puppies available!
---
All puppies come with a 1 year warranty, a puppy package (harness/leash/bows/food/toys/etc), vet checked, with at least 2 sets of vaccinations, dewormed, and more. All of my adults are AKC registered. I co-own or fully own each litter I advertise for sale,  and all pups come from my males unless otherwise noted…
Remember, I may have older pups available! Look at the Older Pups' page!
More pictures are available! Pics are done every 2 wks if you have reserved a puppy.
A $500 non-refundable deposit can be placed to reserve a puppy.  Price CAN change if a deposit isn't placed.
All puppies are available to leave at 10-14wks, depending on their size and how they are doing.  Some babies might need longer to go.
Estimated adult weights are based off of puppyweights.com. You can use the website to see their charted weights yourself. They are ONLY an estimate because sizes will change constantly as they age.
ALL PUPPIES ARE SOLD AS PETS – NO REGISTRATION UNLESS OTHEREWISE NOTED! I want them to spend the rest of their life being in someone's lap, being loved, and pampered.  Puppies sold with breeding rights come with full AKC registration. 
---
Blondie had a beautiful litter of babies!
This is a dual sired litter. This is to help me decide to breed her with during her next litter. I l will evaluate each baby and see which male to breed her with in the future.  So she has 2 females from Blanco (all white chocolate parti) and 1 male from Peanut (blonde chocolate)…
Blondie is a 5lbs blonde chocolate parti girl, who carries sable. Blanco is a 4.8lbs pure white chocolate parti male. Peanut is a 5lb blonde chocolate male. Don't let their weights fool you. All 3 dogs are from EXTREMELY tiny lines. Both Peanut and Blanco have created tinies who stayed less than 2lbs as adults. At average, about 3 out of 4 of their babies have stayed less than 4lbs as an adult. With that being said, because of how the lines are, I think it's best the girls go to forever pet homes.
Not sure if I will sell the boy or not, but I included a summary of him below. The boy is the blonde chocolate one.
Rainy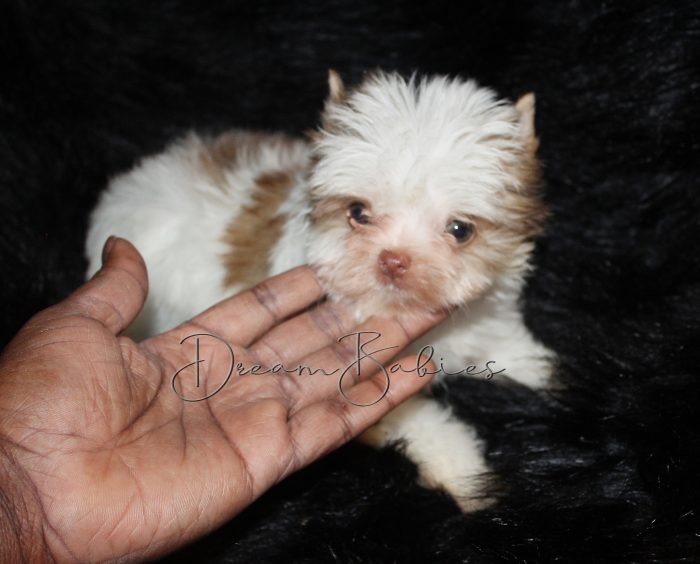 $3500
This is Rainy. She is right in the middle. She is currently 1lbs 8oz at 9wks so is charting around 3.5-4lbs as an adult. She is a beautiful sable chocolate parti that carries blonde, but she's charting too small to breed, so looking for a forever pet home for her. She has a short and compact body frame. She has a gorgeous thick coat. She has an apple head, tiny button nose, short snout, wide set eyes.
Sunny
$3500
This is Sunny. She's the smallest in the litter. She weighs in at 1lb 5oz at 9wks. Currently charting around 3.5lbs as an adult. She is a gorgeous sable chocolate parti, that carries blonde, but she is too tiny to breed, so I'm looking for a forever pet home for her. her sable chocolate coloring will make her look orange/white as an adult. She has a gorgeous tiny teddy bear face, with a tiny button nose.
Cloudy
This is Cloudy. He's the lone male in the litter, and the biggest. Currently 1lb 11oz at 9wks and is charting to be between 4-4.5lbs as an adult. He is a gorgeous blonde chocolate that carries parti and possibly sable. He has a gorgeous thick, yet silky coat. Compact body frame. He has a tiny babydoll face, with an apple head, wide set eyes, and a tiny nose that sits higher on his face.
---
Ember and Dre!
Born 1/4/2021
Ember had a litter! The father is my Korean baby boy Dre!!
3 sables and 2 traditionals. These babies are TINY!! I'm expecting everyone to have beautiful small babydoll faces, short/compact body frames, beautiful coats, and sweet personalities like mama/daddy. lol
If you might be interested in a little one, please email me.
We decided to go with Texas cities theme for their names! 
Austin
This is ember's smaller sable boy. He is currently charting around 4lbs as an adult. Cobby body frame. Thick coat. He is PERFECTION. He has beautiful wide eyes that are wideset. Very short snout. He's a sandy sable color like his mother, but I think he'll end up a more lighter shade of gold as an adult. Very sweet and calm. He will come with ALL of his boosters and rabies shot. If sold outside of TX, he will also come with a health warranty. He has a slight underbite, so please, only pet home. I think his bite will correct itself over the next few months, but aiming for pet homes only for Ember's babies.
The parents are below. 
---
---
---
Thank you for inquiring about our little ones
---
yorkies, Texas Yorkies, Yorkies for sale, Micro Yorkies, Babydoll Yorkies, Teacup yorkies, tcup yorkies, extreme yorkies, extremely babydoll yorkies, austin yorkies, dallas yorkies, houston yorkies, central texas yorkies, los angeles yorkies, lousisiana yorkies, mississipi yorkies, phoenix yorkies, parti yorkies for sale, chocolate parti yorkies for sale, merle yorkies for sale, extreme white yorkies for sale, pure white yorkies for sale, yorkshire terrier puppies, tiny puppies, pups, labradoodle for sale, ethical breeder, chorkies, porkies, maltese for sale texas, maltese austin,, chihuahua for sale austin, chihuahua for sale texas, chihuahua for sale dallas, chihuahua sale houston, maltese sale dall, maltese sale houston, california yorkies for sale, new york yorkies for sale, north carolina yorkies for sale, babydoll puppies california for sale, san fransico yorkies for sale, Alabama Alaska Arizona Arkansas California Colorado Connecticut Delaware Florida Georgia Hawaii Idaho Illinois Indiana Iowa Kansas Kentucky Louisiana Maine Maryland Massachusetts Michigan Minnesota Mississippi Missouri Montana Nebraska Nevada New Hampshire New Jersey New Mexico New York North Carolina North Dakota Ohio Oklahoma Oregon Pennsylvania Rhode Island South Carolina South Dakota Tennessee Texas Utah Vermont Virginia Washington West Virginia Wisconsin Wyoming, micro, teacup, extreme, babydoll, baby, doll, cute, austin, houston, dallas, el paso, sale, sell, import, korea, japan, united kingdom, teaspoon, teddy bear, cuddly, black, tan, parti, chocolate, choc, blonde, gold, sable, platinum, biewer, biro, golddust, white and black, white and brown, dark, light, oceal pearl, merle, extreme white, rare, unique, pet stores, breeder, buyer, tinny, tiniest, yorkie, yoki, yorkshire, Italian Greyhound Chinese Crested Toy Poodle Pomeranian Long Coat Chihuahua Toy Fox Terrier Miniature Pinscher Toy Manchester Terrier Havanese Maltese Shih Tzu Cavalier King Charles Spaniel English Toy Spaniel (B & PC) English Toy Spaniel (KC & R) Japanese Chin Papillon Silky Terrier Yorkshire Terrier Affenpinscher Pug Pekingnese, bulldog, frenchies, pocket book, merles, exotic, rare, parti, cute yorkies, beautiful yorkies, sweet yorkies, trainable yorkies, collars, shirts, dresses, toys, carriers, free, cheap, dallas yorkies, houston yorkies,   New York Los Angeles Chicago Houston Philadelphia  Phoenix San Antonio San Diego Dallas San Jose Austin Jacksonville Francisco Indianapolis Columbus Fort Worth Charlotte Seattle Denver El Paso Detroit Washington Boston Memphis Nashville Portland, Ore. Oklahoma City Las Vegas Baltimore Louisville Milwaukee Albuquerque Tucson Fresno Sacramento Kansas City, Mo. Long Beach Mesa Atlanta Colorado Springs Virginia Beach Raleigh Omaha Miami Oakland Minneapolis Tulsa Wichita New Orleans Arlington, Texas, mrcio teacup yorkies for sale, yorkie, yorkies, yorkshires, terriers, facebook, instagram, twitter, available for sale, interested, buying, itty bitty,  heart teacups, p